Photo:
View Image Gallery
Close Image Gallery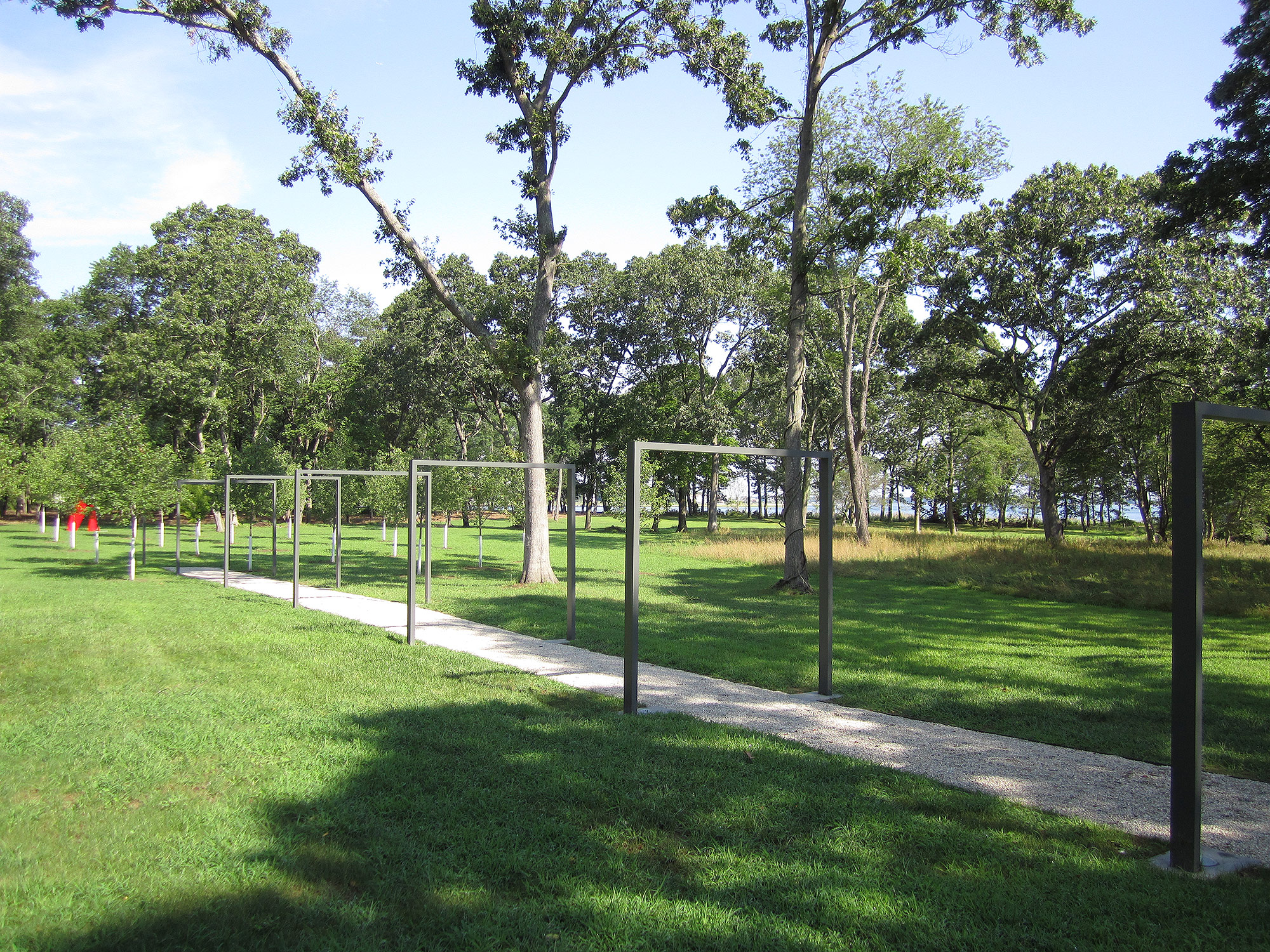 Meadow Passage
Coastal New England
The goal for Meadow Passage was to combine the client's modern aesthetics with the site's natural coastal habitat. Much of the landscape had to be cleared of invasive plant species, leaving an empty quadrant on this 10.7-acre property. One of the defining characteristics of this project was the reestablishment of a forest canopy in a manner that connected the contemporary structure with the natural woodlands.
A bosque planting of 39 red maple trees in the open meadow provides a geometric framework which connects the house to the woodlands beyond the cleared areas. Along the house, a metal pergola frames the vista into the grove and creates a terrace garden adjacent to the kitchen. The geometric arches of the pergola structure continue into the landscape and articulate the pathway to the center of the grove. 'Red Sunset' maples, planted in a grid, were selected for their native heritage and bright red fall foliage. A large red metal sculpture and dining area are located at the center of the grove.
The orchard grid pays homage to farmland geometry. The angle of the bosque and dining area were sited to best capture the water view as well as provide a true north/south orientation for the property. The series of metal arches echo the framed views from the interior of the house and are lit to frame the path to an al fresco dining area adjacent to the sculpture.
The terrace design includes granite retaining walls, monolithic steps, planting beds, and a pergola. The stainless-steel scrims which hang from the pergola structure display shadows by day and are illuminated by LED lights at night. They punctuate the façade of the garage wall, moving the eye into the landscape. The planting near the house, containing perennials, herbs and ornamental grasses, embraces the natural coastal conditions and provides an important contrast to the modern pergola and monolithic granite.
Collaborators
PROJECT MANAGER: Ray Maiello
LANDSCAPE CONTRACTOR: Aquidneck Landworks
SURVEYOR: Alpha Associates
LIGHTING DESIGN: Miriam Andrews